Lincoln Heritage Life Insurance Review
In our Lincoln Heritage Life Insurance review, we included topics when examining life insurance companies. We will discuss Lincoln Heritage customer service among other points. Lincoln Heritage is the leading seller in the industry for final expense insurance.
Free Life Insurance Comparison
Secured with SHA-256 Encryption
UPDATED: Mar 4, 2021
It's all about you. We want to help you make the right life insurance coverage choices.
Advertiser Disclosure: We strive to help you make confident life insurance decisions. Comparison shopping should be easy. We are not affiliated with any one life insurance provider and cannot guarantee quotes from any single provider.
Our life insurance industry partnerships don't influence our content. Our opinions are our own. To compare quotes from top life insurance companies please enter your ZIP code on this page to use the free quote tool. The more quotes you compare, the more chances to save.
Editorial Guidelines: We are a free online resource for anyone interested in learning more about life insurance. Our goal is to be an objective, third-party resource for everything life insurance-related. We update our site regularly, and all content is reviewed by life insurance experts.
In our Lincoln Heritage Life Insurance Review, we will provide an unbiased overview with just the facts.
If you're considering Lincoln Heritage for your final expense insurance, we recommend completing the quote form on the side of this page so you can compare the rest of the market to their offering. Sample Lincoln Heritage rates are at the bottom of this article with comparisons as well. You'll find that you can do much better than Lincoln Heritage when it comes to price.
Choosing a life insurance policy is an important decision. Considering that Lincoln Heritage Life Insurance is a well-known and respected final expense insurance company, you may be considering this business for your final expense insurance policy. When making a final decision, it is a good idea to review the pros and cons of the provider you choose.
First, it's important to know that we aren't affiliated with Lincoln Heritage. So, our opinions are just that— our opinions. If you need to contact Lincoln Heritage you can reach them at 800-438-7180.
Is final expense insurance offered by Lincoln Heritage?
Lincoln Heritage Life Insurance Company is the leading provider of final expense insurance in the US.
Before we get to the exact details about the business, we must examine the product they sell exclusively.
What is final expense insurance?
Final expense insurance is also called burial insurance, funeral insurance, and sometimes called burial life insurance.
Simply put, final expense insurance is a whole life insurance policy designed to cover someone's funeral costs or final expenses at the time of their passing.
Final expenses most often include funeral expenses, medical bills, and any other expenses that your beneficiary wishes to pay. Most final expense insurance policies are smaller amounts ranging from $5000 to $50,000 in coverage. This makes them much smaller and different from other life insurance policies; however,  they offer the same peace of mind that your family and the people you care about will not be strapped with the additional cost of a traditional funeral at the end of your life.
Enter your ZIP code below to compare cheap life insurance rates.
Secured with SHA-256 Encryption
What are the benefits of final expense insurance?
Policies are good for your whole life
Policies can't be canceled due to your age or health
It ensures that your family will adhere to your wishes
There is typically no medical exam
Monthly premiums will never increase
The death benefit will never decrease
Policies build cash value over time
Easy application & quick approval
Some programs offer additional benefits, like funeral cost advice, among other things
Who needs final expense insurance?
Final expense plans are a great option for those wanting protection for a lifetime and for those who want to be protected from expensive funeral bills. Many programs also allow you to plan your funeral in advance, so you can be sure that your wishes will be honored.
The first step when determining your needs is to sit down and look over for budget and future income. An average funeral in the United States right is between $8500 to $10,000 depending on what state you live in. So, if you don't have these funds set aside then a final expense insurance plan might be a great option for you.
Plus, nobody really knows what a funeral will cost 20 years from now. So, it's important to plan ahead because leaving debt to your family members is not the best thing to do. After all, who wants to be remembered as a burden after their death?
That is why funeral insurance is a popular choice for those who want to protect their families from financial strain after they pass.
What is Lincoln Heritage Funeral Advantage?
This business is a provider of final expense insurance. Their primary product is called Lincoln Heritage Funeral Advantage and you should know that Lincoln Heritage's is the best-selling final expense plan in the country.
Lincoln Heritage Life Insurance Company was an innovator of sorts when it comes to the claim process. They paved the way for faster claim approval, providing a significant benefit for consumers whose families were waiting on cash benefits.
They are a family-owned business with a third-generation member, Jack London III, as Chairman of the Board.
From the beginning, Lincoln Heritage Life Insurance Company was unique in its field because they sold only one type of life insurance they called their Funeral Advantage Plan, instead of having agents dedicated to multiple products. The Funeral Advantage program was designed specifically to help policyholders navigate things like burial planning, cremation, and offset the charge of funeral services. After 55 years in the business, Lincoln Heritage Life Insurance Company is the leader in their field for death insurance coverage. They have their unique Funeral Advantage plan to thank for that.
What are the highlights of Lincoln Heritage's Funeral Advantage Program?
No medical exam
Very few health questions tests
Simple one-page application
Coverage for ages 40-85
No height & weight chart
Optional riders available (Child – AD&D)
Prescription history check
Face amounts up to $20,000
Enter your ZIP code below to compare cheap life insurance rates.
Secured with SHA-256 Encryption
What should you know about Lincoln Heritage underwriting?
All Funeral Advantage insurance policies are underwritten by Lincoln Heritage Life Insurance Company and their insurance agents. The overview below includes questions taken directly from the Lincoln Heritage Life Insurance application.
Lincoln Heritage does offer tobacco rates and non-tobacco rates on their final expense plan. Here is how the question reads on their application:
-Has the proposed insured used any form of tobacco in the past 12 months?
Unfortunately, this includes all forms of tobacco including cigars, chew, e-cigarettes and pipes. So, you can expect to pay higher premiums for using tobacco, but that is to be expected with any life insurance product.
Lincoln Heritage also has two knockout questions on their insurance applications that you have to answer NO to or you will be turned down for coverage. This is not ideal; however, these simple health questions make Funeral Advantage more accessible to people with health issues, as you don't have to go through any health exams. The questions are listed as Uninsurable Conditions on their application:
-Has the proposed insured been diagnosed, by a physician, with a terminal illness or AIDS (Acquired Immune Deficiency Syndrome)?

-Is the proposed insured currently incarcerated, hospitalized, in a care facility or receiving hospice care?
If you can answer NO to the two questions above, you will qualify for immediate coverage or their modified plan.
The next section of their application is listed as Significant Health Conditions. If you answer Yes to any of the questions listed below, your death benefit will be modified.
Free Life Insurance Comparison
Enter your ZIP code below to compare cheap life insurance rates.
Secured with SHA-256 Encryption
Modified meaning you will have a mandatory waiting period before your death benefit payment can be made. If you're between the ages of 40 and 50, that period is three years and there is a two-year waiting period for those over 50.
Here are the Significant Health Conditions questions as they are listed on their application:
-Has the proposed insured been hospitalized two or more times in the past six months?

-If under age 25, has the proposed insured been diagnosed with any of the following?

Cerebral Palsy
Cystic Fibrosis
Muscular Dystrophy
Multiple Sclerosis
-In the past two years, has the proposed insured had, been diagnosed with, been treated for or taken medication for any of the following conditions:

Heart disease including Heart Attack
Heart Surgery
Congestive Heart Failure
Angina Pectoris
Alzheimer's disease or Dementia
Organic Brain Syndrome
ALS
Disease of the Circulatory System
Stroke
TIA
Aneurysm
Any form of Malignancy other than Basal Cell Skin Cancer
COPD
Emphysema
Oxygen to assist in breathing
Liver disease including Cirrhosis or Hepatitis C
Kidney disease including Kidney Dialysis
Organ Transplant
Alcohol abuse or drug abuse
Insulin Shock
Amputation
Blindness
Kidney Disorder

-Does the proposed insured need assistance performing their Activities of Daily Living including feeding, bathing, or dressing themselves?

-Has the proposed insured been positively diagnosed or treated, by a physician, for HIV (Human Immunodeficiency Virus)?

-Has the proposed insured had or been advised to have a diagnostic test for which results have not yet been received?
If you can answer NO to all the health questions on the application, you would qualify for immediate coverage. Immediate coverage means your death benefit would be paid out immediately, without ANY waiting period. Immediate coverage is the best coverage available under the Lincoln Heritage life insurance plan.
What rider options are there with Funeral Advantage?
Lincoln Heritage Funeral Advantage has two additional riders you can select as part of your final expense life insurance coverage. Both are clearly listed on the application for you to choose from, not hiding behind an agent. The cost of these riders will be added to your total monthly insurance premiums and will provide additional death benefits when claims are processed.
Child Rider
This rider can be added to an existing policy in order to cover children or grandchildren with life insurance. This rider policy is sold in increments of $5000 called units. Up to $25,000 of rider coverage may be added and the children or grandchildren have the option to convert these riders into their own individual policies before they are 25 years old.
Accidental Death or Dismemberment Rider (AD&D Rider)
This type of addition may be purchased as a rider with a burial insurance policy.
In contrast to the Child Rider, the AD&D Rider is sold as a unit with an extensive variety of payout benefits for different situations. For instance, accidental death pays out $5,000 per unit but an accident due to a car accident pays out $10,000.
Other benefits included in the AD&D Rider are accidental dismemberment ($2,500 payout per unit,) Common Carrier Accidental Death meaning death while on a carrier such as an aircraft, boat, train, or bus ($20,000 payout per unit,) or death due to war or terrorism ($20,000 payout per unit.) Enter your ZIP code below to compare cheap life insurance rates.
Who is the Funeral Consumer Guardian Society?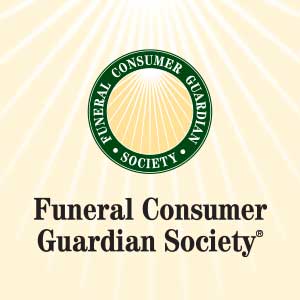 Funeral Consumer Guardian Society (FCGS) as a senior consumer advocate organization that helps its members with funeral planning services.
FCGS states on their site that they are not affiliated with any religion, funeral home, cemetery, or any particular funeral approach.
FCGS also states they will help you with funeral wishes, funeral arrangements and also help your family shop funeral homes for the best burial services rates.
Anyone who purchases a Lincoln Heritage Life Insurance policy is given an FCGS membership. But, this membership does include some additional costs.
Unfortunately, even if you think you can handle your own funeral arrangements, the FCGS membership is an inherent part of Funeral Advantage.
Enter your ZIP code below to compare cheap life insurance rates.
Secured with SHA-256 Encryption
In what ways does this business stand out?
Leading Provider of Final Expense
Lincoln Heritage is a leader in the final expense industry. They currently have over a million Funeral Advantage policies in force.
Financially Strong
Lincoln Heritage Life Insurance Company has an excellent rating with AM Best and has maintained this rating for several years now.
Customer Service
Lincoln Heritage maintains an A+ rating with the Better Business Bureau.
Specializes in Final Expense
Lincoln Heritage only sells final expense insurance; unlike other life insurance agents, they specialize in Funeral Advantage and nothing else. This is a plus since they offer just one final expense program, they're going to go above and beyond to focus on customer service and providing the best program for seniors that they can.
What are the cons of choosing Lincoln Heritage?
Only ONE Program to Choose From
As you've read before, Lincoln Heritage only sells their Funeral Advantage program. Unfortunately for some, this means one underwriting department and not many choices for the consumer. If the Funeral Advantage plan is right for you, this is the best place to go.
The best way to purchase final expense insurance is to use an independent broker in our opinion. Most final expenses companies will view your health conditions differently. Some health conditions or medications might be more favorable with one company versus another.
This is why it important to use an independent broker who has access to multiple companies, to ensure you're getting the best final expense insurance quote. This will ensure that YOU get the best price and the best coverage. Plus, you will actually get the correct policy that fits your individual health conditions.
Strict Underwriting
Lincoln Heritage has super strict underwriting. In fact, on their application, they call their health questions section "Significant Health Conditions". Several of the health conditions listed are far from significant when you turn your attention to their competitors. In fact, most other final expense companies would approve you for Preferred/Day 1 coverage.
Remember, if you answer yes to any of the questions in this section, your only option with Lincoln Heritage is their Modified plan. Once again, ALL modified plans HAVE A WAITING PERIOD and the waiting period can be up to 3 years depending on your age.
When purchasing a burial insurance policy, the goal ALWAYS is to find a company that will approve you immediately without a waiting period.
Pricing is Higher Than Most Companies
Lincoln Heritage Life Insurance plans are priced higher than most final expense companies. Especially, if you don't qualify for their immediate coverage. Listed below are the rates from several companies so you can compare: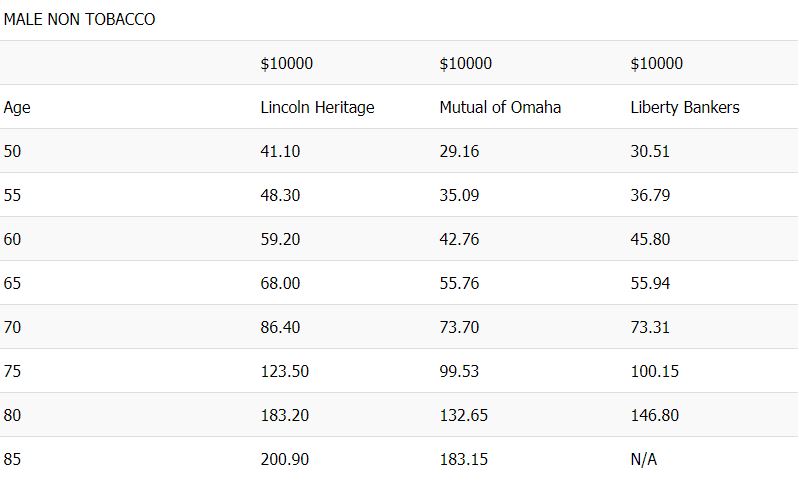 As you can see from the comparison charts, while Lincoln Heritage is the leading seller in the industry for final expense insurance, but they are not the best value available.
When you make your final decision regarding burial insurance, we hope our Lincoln Heritage Life Insurance Review has been helpful.
We always recommend shopping several funeral insurance companies before making your final decision. Once again, using an insurance broker with access to multiple final expense companies will ensure you have plenty of options/plans to choose from.
Most importantly, is finding the CORRECT plan that is specific to your health conditions with the lowest priced policy possible.