Life Insurance for Diabetics
When searching for life insurance for diabetics, the best rate may not mean that it is the best company for you. Diabetes does affect life insurance. Just how much is life insurance for a diabetic and affordable rates are some of the topics we discuss.
Free Life Insurance Comparison
Secured with SHA-256 Encryption
UPDATED: Oct 14, 2020
It's all about you. We want to help you make the right life insurance coverage choices.
Advertiser Disclosure: We strive to help you make confident life insurance decisions. Comparison shopping should be easy. We are not affiliated with any one life insurance provider and cannot guarantee quotes from any single provider.
Our life insurance industry partnerships don't influence our content. Our opinions are our own. To compare quotes from top life insurance companies please enter your ZIP code on this page to use the free quote tool. The more quotes you compare, the more chances to save.
Editorial Guidelines: We are a free online resource for anyone interested in learning more about life insurance. Our goal is to be an objective, third-party resource for everything life insurance-related. We update our site regularly, and all content is reviewed by life insurance experts.
One of the top frequently asked life insurance questions continues to be, "Can a person with diabetes qualify for affordable life insurance?"
Although there are typically several underlying issues that are associated with diabetes, the overall answer to this question is "yes."
Even if your diabetes is type 1 (insulin-dependent) or type 2 (adult onset), you can still qualify for life insurance for diabetics at affordable rates.
Before you begin your search, you should know that the type of diabetes you have, the age at which you are diagnosed and the ways in which you are managing the disease are integral to the amount that you pay in life insurance premiums.
Let's dive into detail about what companies look at and some possible outcomes of getting life insurance coverage with diabetes.
An Overview of Type 1 and Type 2 Diabetes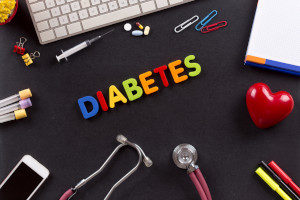 Typically, individuals who are diagnosed under the age of 40 experience serious symptoms and are diagnosed quickly, whereas individuals over the age of 40 develop the disease in a more gradual manner, experiencing few symptoms.
Although the diseases share quite a few commonalities, their risk is not seen as equal by underwriters.
Insulin is necessary because it converts the glucose in your cells into energy.
Type 1 diabetes has several risk factors including genetics, exposure to certain viruses, family history, being born with jaundice and – according to some hypotheses – the early introduction of cereal into a child's diet.
One of the biggest differences between the diseases is the body's relationship to insulin; for those with Type 2 diabetes, the body produces insulin but cannot effectively utilize what it produces.
If you are considered overweight, you pose a greater risk for developing Type 2 diabetes. This is because the cell in your body become more resistant to insulin as fatty tissues increase.
According to these studies, Asian Americans, American Indians, African Americans and Hispanic have a greater likelihood of being diagnosed with Type 2 diabetes, although it should be noted that anyone can run the risk of developing Type 2 diabetes – even without the aforementioned risk factors.
Enter your ZIP code below to compare cheap life insurance rates.
Secured with SHA-256 Encryption
Underwriting Factors Affecting Life Insurance for Diabetics
The health issues associated with diabetes play a large part in determining your rate so the applicant should be prepared for the underwriter's list of health questions and be able to support your responses with reports from your primary physician.
Age at diagnosis: With diabetics, your age at diagnosis has the opposite effect on your rates than with a healthy person. If you are diagnosed at a young age, there is a far greater chance that you will develop complications over time. The reality is a 30-year-old will pay higher rates than a person diagnosed at age 60.
Current Age: How long you've had diabetes will be important for underwriters to develop a history of treatment and measures taken for control
Family Health History: Your family's health history will be taken into consideration, especially if other close family members have diabetes.
Your overall health history: Most diabetics have some issues of associated health problems and underwriters will also take them into consideration.
Type 1 or type 2: If you're contemplating which is worse, don't. The type of diabetes you have is immaterial to the measures you've taken to control it. With that being said, it is important to note that type 2 diabetes is hereditary, and you do not have a choice of whether or not you get it if you are genetically inclined to do so.
Height and Weight: Your height and weight will be taken into consideration whether you are diabetic or not. All of us have to answer for this.
Blood sugar levels: Certainly current blood sugar levels will be taken into consideration to determine if your condition is under control.
Complications: Here they want details of any problems that came along with diabetes. This can include nephropathy, neuropathy, retinopathy, and cardiovascular disease. The fewer problems, the better your rate.
A1C Level: Your physician uses the A1C test to determine the average level of blood glucose (blood sugar) over the prior three month period.
Current Medications: Your current medication will indicate the progressiveness of the disease to an underwriter.
Free Life Insurance Comparison
Enter your ZIP code below to compare cheap life insurance rates.
Secured with SHA-256 Encryption
Possible Outcomes
There are a few possible outcomes that will depend on the type of diabetes you have and the other factors mentioned.
Most of the time, if you're a diabetic you will fall into the Substandard rate classes. Let's explain what that means before we dive into the outcomes.
Life insurance companies have five health classes you can qualify for.
Those include Preferred Plus, Preferred, Standard Plus, Standard and Substandard. Preferred Plus being the best rate you can get.
However, the Substandard category is broken down into 10 more rate classes that range from table 1 to table 10. Each table is a 25% increase in premium of whatever your Standard rate is.
So now that you know how the rate classes work, let's see where you fall.
Here are some of the best, worst, and typical case scenarios for diabetes.
Type 1 Diabetes
With type 1 diabetes you are considered an insulin dependent diabetic which means you will most likely pay more than a well-controlled type 2 diabetic.
Best Case – most of the time, on average you can qualify for a table 2 to table 4. This is under the assumption that you have good control of your condition, no complications, and are over age 50.
Typical case – typically people qualify for a table 5 to 8 depending on their control of the condition, age, complications, and other lifestyle factors.
Worst Case – the worst case scenario is a decline in coverage. This means that you have no control of your condition, have some complications, or have other health issues that are closer to severe than not. However, this just means that you don't qualify for traditional coverage. You do always have the option of getting a guaranteed issue policy that can cover final expenses. The drawbacks on these policies are capped coverage and a waiting period to receive the death benefit.
Type 2 Diabetes
Type 2 Diabetics can normally qualify for better rates. This is commonly known as non-insulin dependent diabetes or Adult Onset Diabetes and is usually a result of lifestyle habits.
Here are some possible outcomes for type 2 diabetics.
Best Case – the best case scenario is a Preferred rating for those over the age of 60, oral medication only, no complications, excellent control, positive lifestyle habits and good overall treatment. However, the more typical best case scenario is Standard rating. This means you're over age 50, have excellent control and no complications.
Typical – if you're having a harder time controlling your sugar levels, or have a heavy build then you will probably qualify for table ratings ranging between 2 and 6.
Worst Case – the worst case scenario is the worst case in any case, and that is a decline. Similarly, at this point, your options would be leaning towards a final expense policy that is limited in coverage amount and may have caps, but easier to qualify for.
Is a Medical Exam Required?
Your medical exam requirement will depend on your goal to get the best rate. Most insurers are going to require an exam before underwriting the policy.
Those companies who do not will make up for the lack of underwriting information by charging higher rates. If your goal is to obtain the lowest rates possible, then agreeing to a current medical exam will make the most financial sense.
It's important to remember, however, that your medical exam could conflict with incomplete or inaccurate information you provide in the medical questionnaire portion of the application.
Knowing this, it's incumbent upon you to give accurate information on the application and never intentionally provide false information or omit information.
Enter your ZIP code below to compare cheap life insurance rates.
Secured with SHA-256 Encryption
How to Get the Best Rate with an Independent Agent
If you are a diabetic then using an online quote engine is useless for the most part. Harsh, I know. This is because the company with the best rate on the quote engine may not be the best company for you.
Each company insures certain risks differently and while some companies may offer diabetics a table rating, others may give that same client a standard rate.
This is where working with an experienced independent agent comes in.
Life insurance is a hard process to navigate on your own and that is why there are professionals around. But how do you know the person you're working with is not a rookie?
Here are a few cues to look for in a good agent.
They're independent – this means that they are not tied to any one company, and can shop around on your behalf.
Detailed pre-qualification – if your agent does not ask you detailed questions about your condition then chances are they're not familiar with high-risk cases such as diabetes.
They don't write a cover letter – any good agent knows that with cases such as diabetes, lifestyle factors are a huge influence on the rates. Especially because something as simple as diet and exercise is part of the treatment! However, this isn't always in the doctor's records so it's up to the agent to detail the positive lifestyle factors of their clients in a cover letter that is then attached to the application for the underwriters to see. If your agent doesn't offer this, find another.
Help Your Insurer Arrive at a Favorable Rate
Your insurer will certainly not look to punish you financially because of your diabetes.
In fact, your insurance professional and the companies they represent want to issue your case at the most favorable rates possible. They are in the business of selling life insurance, not declining to issue it.
You can help.
Put control measures in place: Understanding your disease and being determined to control it is the most important step you will take.
Get Help: Seeing your physician and your eye doctor at least annually is a commitment that you must take seriously, and you should do it even if your sugar readings are very good.
Accept and act on advice: When your physician prescribes medication along with a healthy diet, it's extremely important to follow his or her advice. Remember, your insurance underwriter will have access to this information and can confirm if you are cooperating by the results of your tests.
Free Life Insurance Comparison
Enter your ZIP code below to compare cheap life insurance rates.
Secured with SHA-256 Encryption
Choosing a "Diabetic Friendly" Insurance Company
Yes, there are insurers out there that are considered to be "diabetic friendly" by the agents or brokers who represent them. Not because they feel sorry for diabetics, but because they have been able to profit on the policies they sell.
After all, isn't that the reason insurers are in business?
The companies that can profit on "high risk" life insurance are the ones that have better underwriting practices to help them best determine the risk and apply adequate rates.
Unless you are the type of consumer that enjoys calling or visiting with several insurance agents or companies each time you need to purchase insurance, your best and most efficient method should be to contact a trusted insurance professional who has access to the top-rated carriers and can shop all of them on your behalf.
When you take advantage of a reputable licensed insurance broker, you are putting yourself in the best position to learn about the coverage you need, get rates from highly rated carriers, and develop a long-term relationship with an insurance professional who is an expert in their field.
Your broker is in a position to put your needs first because he or she does not have a financial allegiance to any particular company.
The broker is an independent business person that will make multiple offers to their client and help them make an informed decision on the product that best meets their needs and fits within their budget.